Clean your Garage
When everything has been cleared out of your garage, it is the right time to clean and sweep your garage. Take a good hard look at the various surfaces from bottom to top. Begin with the garage ceiling and wipe thoroughly. Sweep out all of the heavy debris and dirt. You can remove any grease and oil spots by properly covering them using either sawdust or cat litter in order to absorb any excess.
Use a broom to remove cobwebs, and also make sure you wipe away all the dirt and dust that has accumulated in the corners too. With a hard or medium bristle broom sweep the garage floor and ceiling after about twenty four hours. Sprinkle a cleaning agent or dry dishwasher detergent on any stains. Pour hot water on the stained area and scrub it rigorously using a bristle broom.
To get rid of more stubborn stains, you can use muriatic acid coupled with a good pressure washer. Then thoroughly wash the whole floor using lukewarm soapy water, and scrub the surface using a deck brush. (ex. this deck builder in Chicago does an excellent job, see images) It is important to rinse thoroughly; use a push broom or floor squeegee for removing any remaining water. Let it dry, and consider if the floor requires any painting or sealing. Repair any dents, small holes, scrapes and scratches with joint compound.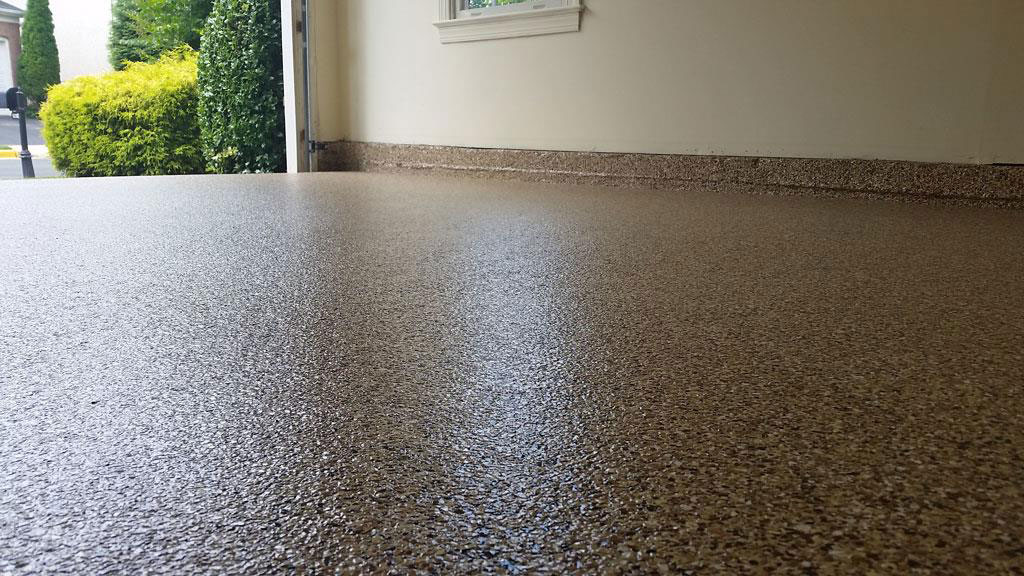 You can also apply garage floor coatings. Keep in mind that professional floor coatings (like the one shown in the picture) have unmatched quality and make work simpler for you.
Most professional floor coatings take just two days. However, an extra day might be needed if your surface has serious damage.
You may also apply epoxy over your garage floor paint or over a previous coat of epoxy. You do not have the remove the previous coat; however, you will need to prep the floor surface. You can rent a top-notch floor buffer that has a sixty-grit sanding screen.
Run your buffer carefully over your garage floor in order to get rid of loose paint. Then scuff the floor and create a smooth texture that the epoxy can stick to. Then thoroughly sweep your floor clean. And clean it using a degreaser, which can be found at home centers. The degreaser would help break the molecular bonds in the grease, causing it to come off your floor easily.
Keep in mind that epoxy will not stick to floors contaminated by grease or oil. Allow the garage floor to dry for one full day, and then apply a coat of epoxy.
There are a variety of options available when it comes to epoxy flooring. You can choose from faux granite to brightly colored tiles. In spite of the style you go with, the color and finishes available will let you carry over the interior style from your home to your garage.
Similarly, you may design a completely new and customized theme for this area.


A benefit of epoxy flooring material is that it comes with a five-year guarantee. In addition, the material is well known for its quality, durability and the unique ability to endure the usual activities that occur in the garage, making it equally functional and luxurious.
Organize Strategically
In case you have not already, now is the time to visit the nearest home improvement store. You will need to invest in storage cabinets, shelving, clear totes, hooks and pegboards. The main goal here is to keep all items off the floor, when possible. It will help you clean the garage easily without creating piles. You should store similar items and equipment together like gardening tools and fertilizers, etc.
Another great thing you can do is store bulky equipment such as snow blowers and lawn mowers in the corners. On the other hand, keep all the frequently-used items in places which are easy to access, and stash rarely-used or seasonal items in harder-to-reach areas such as top shelves.
You can streamline your garage in a variety of ways which are discussed in the next section.
Fishing Rod Organizer
You may get sick and tired of your different fishing rods getting jumbled or tangled. If that is the case you can use a simple fishing rod organizer.
You just need a PVC pipe with a diameter of about three inches along with a swimming pool noodle (made of foam). Start by drilling 1-inch holes in the PVC pipe spaced about every 4 inches. With a small utility knife carefully make slits in your foam noodle; keep them about four inches apart.
Line up your pool foam noodle on your garage wall in a way that two slits sit above the studs. Then gently pull these slits apart and carefully slide in a fender washer. Stack the swimming noodle to your wall using 2-inch screws. Now screw your PVC pipe carefully to the wall underneath at a reasonable height and slide the fishing rods.
Stack Bins
You can use plastic storage bins in your garage; this is because they are an ideal way to organize and separate your equipment by season or sport.
The bad news is that they often get stacked against the walls, which makes reaching the bottom bins quite difficult, particularly for your household's young teammates. However, a permanent and better solution is to build storage towers. They are not only easy to build, but are also an ingenious and attractive way to provide easier access to the bins. Springwater real estate.
You can use bins of different color for different types of equipment such as sport equipment to make sure you find whatever you require in no time. You can also use the wooden frame sides for a variety of wall-mounted accessories like utility hooks or fishing rod holders for lightweight equipment.
Store More Items on the Walls
If you mount brackets, hooks and various other hardware, just on studs, it is likely that you are wasting plenty of opportunities. One of the best strategies is to include a layer of plywood (about ¾ inch) over bare studs or the drywall.
This will give you a permanent fastening surface, allowing you to mount a variety of storage hardware easily and quickly. This way you will be able to arrange and organize more items in a space-efficient manner and squeeze in more stuff onto your walls. You can easily double your storage capacity with inexpensive hardware and plywood.
Flexible Storage Walls
A flexible and convenient storage wall system will solve two challenges. The first challenge is to design your storage area for the narrow or constricted alley between your car and your garage side wall.
The second is to make a solid and reliable mounting surface in order to hold hooks and shelves which are able to carry hundreds of pounds of items and equipment. The simple and elegant solution here is to develop a framework of inexpensive shelf standards and horizontal wood strips.
The structure will be able to hold nearly any arrangement of hooks and shelving, at various points on the wall; in addition, it is very easy to rearrange.
Create a Paint Station
Your DIY jobs (diy garage shelves) will not seem so bad if all your essential items have a dedicated space. A steel pegboard (like the one shown in the picture) will help keep rollers, brushes and tape etc. close at hand in case you have to tackle that paint project.
Ceiling Track Storage
You can use big plastic storage bins (as shown in the picture) to store items conveniently. Get them up off your garage floor and on the ceiling.
Using 3-1/2-inch screws tack 2x2s to your garage ceiling framing with a space of about 2 feet. You can use these bins as a suitable guide for spacing your 2x2s. Keep in mind that the lips on your bins must slightly brush against the 2x2s when you slide the plastic bins into place. Then use 2-inch screws to center and screw the 1x4s to the 2x2s.
Your garage ceiling is an excellent place to stash light to medium weight items such as camping gear and holiday decorations.
Garage Cabinets
Although it is quite simple and inexpensive to install garage shelving in the garage in order to organize various items, garage cabinets offer several important benefits that shelves simply cannot give you.
A predominate benefit that a lot of garage owners quote as the key reason for opting for cabinets is that most cabinets feature convenient doors that can conceal or enclose the clutter in their garage, making it appear cleaner, more streamlined and, at times, even stylish, depending on the design and color of the cabinets.
You can quickly transform the garage into an organized space from a cluttered mess using customized garage cabinets. These cabinets are available in a number of different sizes and shapes to meet all of your storage and organization needs. In addition, you will get some more benefits if you organize the garage space with garage cabinets.
Save Time
It is likely that you store a variety of tools, seasonal clothing or holiday décor in your garage. Without proper organization you will end up wasting plenty of time looking for the wrench, winter coat or holiday ornaments you want.
On the other hand, if your garage is well-organized, everything will be in place, and you will save a lot of time when you are looking to find something.
Save Money
You will spend less money if you organize your garage using garage cabinets. In case you were to count the screwdrivers or hammers in your garage, how many do you have? Quit purchasing more screwdrivers simply because you cannot locate the ones you have.
Instead, get organized and know exactly how many screwdrivers, hammers, wrenches, light bulbs or gardening tools you have and where you have kept these items. Your pocketbook would thank you!
Lower Stress
You may feel like your blood pressure will go through the roof when you look at your disorganized or cluttered garage. Lower stress by organizing your space and enjoy peace of mind. If you do so, everything will have an assigned spot, which will make it easier to find whatever you require, especially when you are in a hurry. As a result, your tidy and neat garage would be a place of joy rather than stress.
Enhance Accessibility
Ideally, when you walk into the garage, you must be able to locate what you require in a couple of seconds. In case the garage is littered with cardboard boxes and random tools on the floor and other surfaces, it is time that you reclaim the precious space.
With garage cabinets you cannot only improve accessibility, but also maximize storage space. With garage cabinets, you will be able to store similar items together such as:
Stash your winter gloves in the garage cabinet by your front door

Place all your tools in a garage cabinet which is close to the workbench

Keep all auto repair supplies in a single wall cabinet
You will not need to search extensively for the items you need as all of your stuff will be accessible. Even your children will find whatever they need with ease.
Eliminate Clutter
At times, you may simply keep piling boxes, tools, equipment and other items in your garage wherever free space is available. Then one fine morning you will take a look at the garage and suddenly realize that it is a cluttered mess, or even worse, the long pile of heavy boxes falls on you while you try hard to find your beloved holiday wreath.
Do not let that happen to you. Take charge to reduce or eliminate clutter and create a tidy, organized and neat garage. With garage cabinets, you will be able to similar items put various items in their suitable place and keep together. As a result, you will not have cleaning supplies on top of your favorite swimming gear. You will easily navigate your garage and find what you need.
Improve Garage Safety
Keep in mind that a garage is the best place to keep everything from toxic paint to cleaning supplies.
However, some of these items could become safety hazards in some cases. For example, if your child or pet accidentally licks an old paint can or swallows antifreeze, they can get deathly ill.
You can reduce the risk of accidental ingestion of chemicals, poison, and various other dangerous substances by storing these items in the cabinet that is locked or out of reach. These garage cabinets will protect your pets and kids from inhaling or ingesting something that is harmful for them. Also, cabinets will successfully keep all flammable or combustible materials safe. You could easily store these items away from any tools that may produce a flame or matches.
You can also protect yourself from falls and slips with custom cabinets. In case a container starts to leak, the mess would be partially contained inside the cabinet rather than creating a mess all over your garage floor. The risk of boxes toppling on you will also be reduced if you install cabinets. You will not step on things such as a barbell or a rake when it is contained. Rather, all of your possessions will be neatly stacked and kept in a cabinet that will keep them organized.
Garage Corner Shelves
Another great garage makeover idea is to use more shelves in your garage to organize and store stuff. Functional and flexible garage shelving is an ideal storage option for a variety of items, such as toys, tools, painting supplies and cleaning supplies.
You could purchase a conventional garage shelving system (like the one shown in the picture), which would hold everything from cleaning supplies to tools and equipment.
Many people already have functional shelves in some obvious spots, but they do not install shelves in the corners. A nifty and elegant corner shelf (see picture below) can take advantage of your current studs, and it is also cheap and easy to set up.
You can use oriented strand board or scrap plywood in order to make corner shelves that can fit well between your corner studs, while supporting them with 1×1 cleats. Also, these types of corner shelves are ideal for storing small items like oils, glues, waxes and polishes, which may get lost on large shelves.
PVC Pipes for Brooms and Rakes
Storing various gardening tools and equipment, such as rakes, as well as cleaning equipment, such as brooms, can be a pain. In case you do not secure them to a wall, they are likely to end up in a pile on your garage floor, which can be unsafe and look ugly.
However, if you secure them to a wall using PVC pipes (as shown above), they will be readily accessible whenever you require them, but will be out of your way when you do not.
Update Garage Doors
Adding some style and personality to the garage doors can instantly transform your garage. You may give your garage doors the rustic carriage house look without having to spend hundreds of dollars on actual carriage doors. A lot of home improvement centers and stores sell kits that allow users to immediately transform their garage doors. These kits are very economical and simple to install.
Roll up garage doors are heavily used in both commercial and residential properties. You must have seen them at retail and convenient stores, schools, medical facilities and office buildings.
Garage Makeover Costs
The cost of remodeling or renovating your garage depends on a variety of different factors, such as the size of your garage, the type of renovation you are considering, the choice of materials, and the labor cost needed to complete your project.
The Basics
Irrespective of what kind of garage renovation project you intend to undertake, you would have to start by preparing your garage to be an improved living space. You will need to insulate the space and finish off the walls with sheetrock.
In addition, you will have to add flooring and ceiling as well. Similarly, you may have to update any electrical circuits in your garage to support lighting and any tools and electronics that you intend to use in the new space.
If you use a moderately-priced grade of materials and manage to complete most of the project yourself, leaving the technical aspects of the project to the professionals, you could prepare the garage space for about $3,000 to $4,000.
Small Scale Makeovers
Perhaps you just need your garage renovation project to cover a small part of your garage. This is usually the case when home owners are looking to create a fitness area, or only need to add some storage space or a closet.
For a majority of small-scale remodeling and makeover projects, costs are usually very low and depend on exactly what has to be done in order to prepare your garage space for storing heavy items or or fitness equipment.
In case you already have all of the fitness equipment installed inside your home, simply making one corner workout ready is all that is required. You can easily add storage cabinets to your garage space on a budget. In most cases, the average cost of a partial or small-scale garage makeover could range from $2,000 to up to $10,000, depending on the kind of accessories and materials used and the purpose of renovation.
Complete Garage Makeover
On the other hand, a complete garage remodel or makeover means that your entire space will be converted into a more organized and livable space. This will usually mean much higher costs.
There are several examples of these complete-garage renovations, which include converting your garage space into a man cave or game room, converting your garage into a convenient home office or turning the garage space into a new apartment.
Converting your garage space into an apartment could be the most expensive kind of garage remodeling project. Apart from insulating and preparing your space to make it habitable, you might need to update the current electrical circuitry and also add extra outlets along with lighting.